At Memory Artists Studios, we don't just stand on our laurels as quality producers of documentary film, or online entertainment pioneers, we also engage the audience in public with Live Event Productions, everything from DJ work to Karaoke and Game Shows. Scroll down for more.
Live DJ Entertainment
At Memory Artists, we have not just the equipment to play the music at your function, we are also able to keep the party going. With almost 10 years of DJ experience we can move seemly from track to track and cater to any audience, venue, and type of function.
Karaoke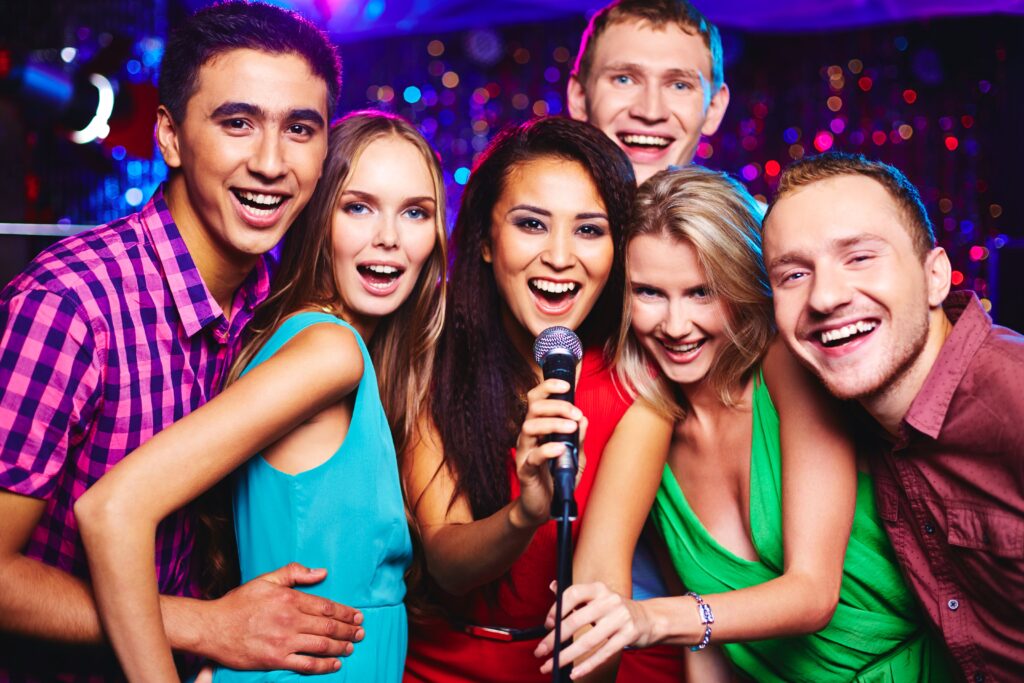 We have been doing karaoke for years and as it turns out we have over 100,000 songs in our system to develop your vocal cords into modern jukeboxes. The best part is with our wireless mic system and our setup, we bring the party to you. Sometimes, we moderate singing contests for bars so that people keep coming back each week for the contest.
Live Bingo/Music Video Bingo and Trivia
Imagine a room all listening for their last number to be called to win at a game of bingo. Now, imagine if instead of numbers you were watching and listening to your favorite music videos from the 1970's to the present. That's live music video bingo. You supply the prizes, we supply the cards, music, trivia and more!
This is the perfect event for a lady's night out at a social club or a fundraiser!
Concerts and other Live Events
As the weather grows nicer and more and more people get vaccinated, COVID-19 will hopefully be a thing of the past. In this case, we are able to project films for parties, and do sound and video work for your concert. We have the technology and the expert film staff that will make your event a HUGE success!
Below is a video showing off the work we did for a comedy show in Gilbert, AZ in March 2021:
Trivia Nights!
You don't have to be a rocket scientist to win at our trivia contests of 6 rounds of general knowledge. You might need a drink though. The perfect experience for your bar or pub to bring customers in. You supply the prizes, we supply the game sheets and the questions and the host.
Game Show Night
Everyone loves game shows. Everyone loves music and winning things. These are facts. Combine your slowest night at a pub or make a special event fundraiser great by bringing in a host for the best feats of strength, smarts, deal making, card flipping and of course price checking.
We take games from classic TV shows and we incorporate them into a 2-3 hour block. You supply the prizes for giving away and we supply all the other props.
Socially Distant Car Birthday Parties and Parades
We understand your concerns over COVID-19. We know your loved ones have birthdays to celebrate at any age. For a small fee, we will come and car DJ a sort of mini-parade through your street to celebrate your event. You supply the people, we supply the party.
…Speaking of Children's parties…
Whether it's old or young, we will do your child's karaoke birthday party, as we are fully mobile and kid-friendly. A Normal kid's karaoke party is 2 hours and comes with happy birthday sing along and thousands upon thousands of karaoke songs. Karaoke not your speed but still want a DJ? We can adapt to your style that allows the best possible situation for the event. Just let us know where it will be and we will bring the fun!
If you are interested in receiving a quote about any of our Live Event Production services, please drop us a line:

[email protected]

or call: